By Sarah Armstrong, Communications and Outreach Director
March 28, 2017 - Last night, Francisco Rodriguez Dominguez, a 25-year-old "dreamer" from Portland, was reunited with his family after being detained by Immigration and Customs Enforcement, or ICE. Their emotional reunion was possible because people came together to resist the risky constitutional actions of President Trump's immigration agents and to say loudly that they cannot take one of our own without a fight.  
Francisco is an Oregonian. He lives in the neighborhood he grew up in, graduated from Reynolds High School, and attends Mt. Hood Community College. He volunteers at his church, coaches an elementary school soccer team, and works at a food pantry that serves low income families. His family is in Oregon. His friends are in Oregon. Which is why it was shocking to learn that federal immigration agents, without a warrant and without any cause, raided his home on Sunday morning.
Around 7:30 a.m. Sunday morning, officers showed up at the apartment where Francisco lives with his parents and little sister and brother. They banged on the door and yelled his name. His sister answered the door and told them to wait outside. From upstairs, the family could see that the officers vehicles were marked as ICE. Francisco called his priest for advice, but the ICE agents kept banging on the door and yelling his name. He stepped outside to talk to them and they immediately handcuffed him. Francisco told them he was a DACA recipient, but they said that didn't matter. In Trump's authoritarian  view, he was a "bad hombre" not fit to live in his own neighborhood. According to Trump's immigration agents, Francisco's misdemeanor DUII made him a threat – it made him a criminal alien. So they needed to raid his house on an early Sunday morning, arrest him, and take him into the Tacoma ICE detention center.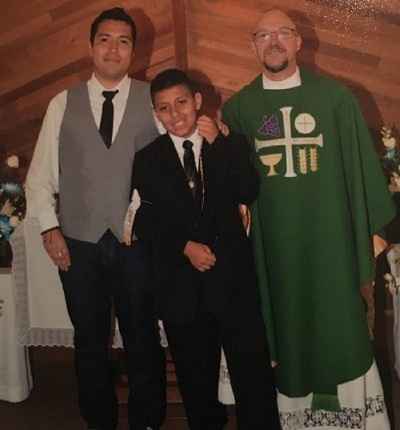 Of course, in the real world where facts matter, none of this makes any sense. An Oregon criminal court judge and prosecutor carefully looked at the actual facts of Francisco's case and found that because it was his sole offense and because he actively enrolled in rehabilitation and treatment, he was not a danger to the community. 
His priest, his sister, his neighbor, and his boss got to work spreading the word about the real facts about Francisco. Once people heard about Francisco's story they wanted to help. Oregonians gathered outside the ICE facility in Portland with signs and a megaphone. ICE phone lines were flooded with calls asking for Francisco to be released. 
Thanks to that amazing show of support, ICE very quickly released Francisco on bond yesterday. He still faces deportation proceedings, but last night he celebrated his freedom from incarceration with hot chocolate and pastries at home with his family. 
Yesterday's victory shows just how powerful we are when we work together, even against Trump's ICE. But there is still a long road ahead for Francisco, and for many others who are being swept up in ICE raids.
When you see a news story about increased ICE enforcement, think of Francisco's story. Will we really deport this young man from the only home he has ever known because of mistake so many have made? Will we really deport a grandmother who provides childcare for her grandkids? Will we really send away a father of five young children who has no criminal record?  
We should celebrate this victory for Francisco and his family. But it won't be the last heartbreaking story under Trump's ICE. The cruel and inhumane immigration policies of this administration will continue to tear families apart. You will hear more and more of these unbearable stories from cities and towns all across the country. If you are so lucky as to be able to go about your normal life during this time, you must not turn away from the despair that President Trump's policies create. 
We have to stand up for what we know is right, even when it seems impossible to make a difference. We have to protect our neighbors. We have to share stories. We have to make calls and write letters. We have to go to rallies. We must be brave. We must resist.