SHERIDAN, Ore. -- One hundred and twenty three asylum seekers are being held by Immigration and Customs Enforcement (ICE) at a federal prison in Oregon without meaningful access to attorneys in violation of the U.S. Constitution, federal immigration laws, and international treaties said lawyers for the American Civil Liberties Union Foundation of Oregon (ACLU of Oregon), Innovation Law Lab, and the American Immigration Lawyers Association Oregon Chapter (AILA Oregon). The groups today sent
a letter to ICE
outlining their concerns for the detainees' rights. The Oregon detainees, all men, are among the 1,600 immigrants marked for expedited deportation that the Trump administration sent to federal prisons in five states in an unprecedented move last week.
"Detention should never be used to punish or deter a person from applying for asylum to save his life," said Stephen Manning, immigration attorney and executive director of Innovation Law Lab. "It is a core principle of the United States that no person in this country should be imprisoned without due process of law."
In the letter, the groups say that while the courts decide the fate of these men's asylum claims, ICE must ensure that the federal prison at the very least complies with the current civil detention standards.
Last week, lawyers with Innovation Law Lab and AILA sent a letter to the prison warden offering pro bono lawyers for the detainees. The volunteer lawyers were able to meet with some detainees yesterday, but were not allowed to see detainees this morning and have been denied access through the weekend.
The groups say the detainees being held in Oregon are men from different countries around the world including India, Pakistan, China, Nepal, Ukraine, Guatemala, and Mexico. Many of the detainees applied for asylum at points of entry along the southern border of the U.S. Some of the men reported being forcibly separated from their partners and children and lack information about their family members' whereabouts.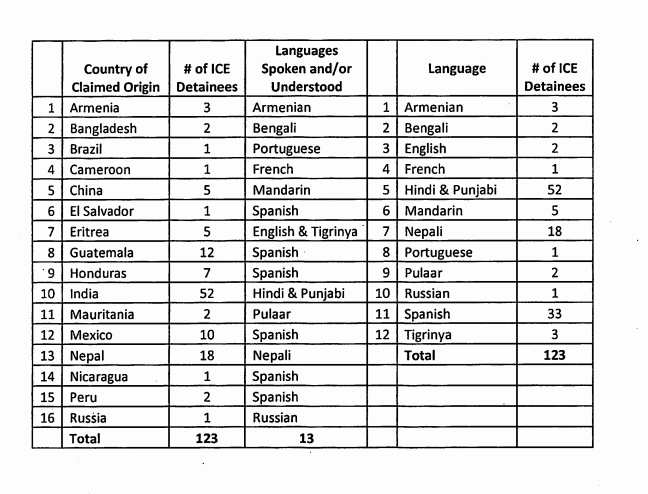 "There should be no deportations until all 123 men have meaningful access to lawyers," said Mat dos Santos, legal director of the ACLU of Oregon. "These men presented themselves to request asylum as allowed under U.S. laws and international agreements. They are fleeing violence and persecution in their home countries and they deserve their day in court."
Dos Santos explained that it will take weeks for each detainee to meet with an attorney for an initial assessment because the federal prison only has four meeting rooms and offers extremely limited visiting hours. The detainees also cannot call lawyers and the prison's video teleconferencing system is broken.
"People come to the United States at great personal risk seeking freedom from despots and cruelty at the hands of their government," dos Santos said. "We cannot meet them at our borders with more of what they have fought so desperately to escape."