2018 will be remembered as a historic year for civil rights and civil liberties battles in Oregon.
You supported immigrants and abortions rights in Oregon by defeating Measure 105 and Measure 106. You took on the Trump Administration and fought up for the rights of jailed asylum seekers. You stood up for Oregon's LGBTQ students facing hateful lawsuits . You defended the First Amendment and held the City of Portland and the Portland Police Bureau accountabile at city hall and in the court room. You took on ICE. And we did so much more together in 2018.
Everything the ACLU of Oregon accomplished in 2018 was because our members and supporters refused to accept attacks on our democracy and values. Whether you called and emailed your local elected officials, donated what you could, volunteered your time, showed up to our Day of Action in Salem, signed petitions, marched at rallies and protests, or simply voted with civil rights and liberties in mind, every little thing added up to an an amazing year. 
As 2019 approaches, here are some things we we can all be proud of from an action-packed 2018. 
Support the ACLU of Oregon: Donate now.
JANUARY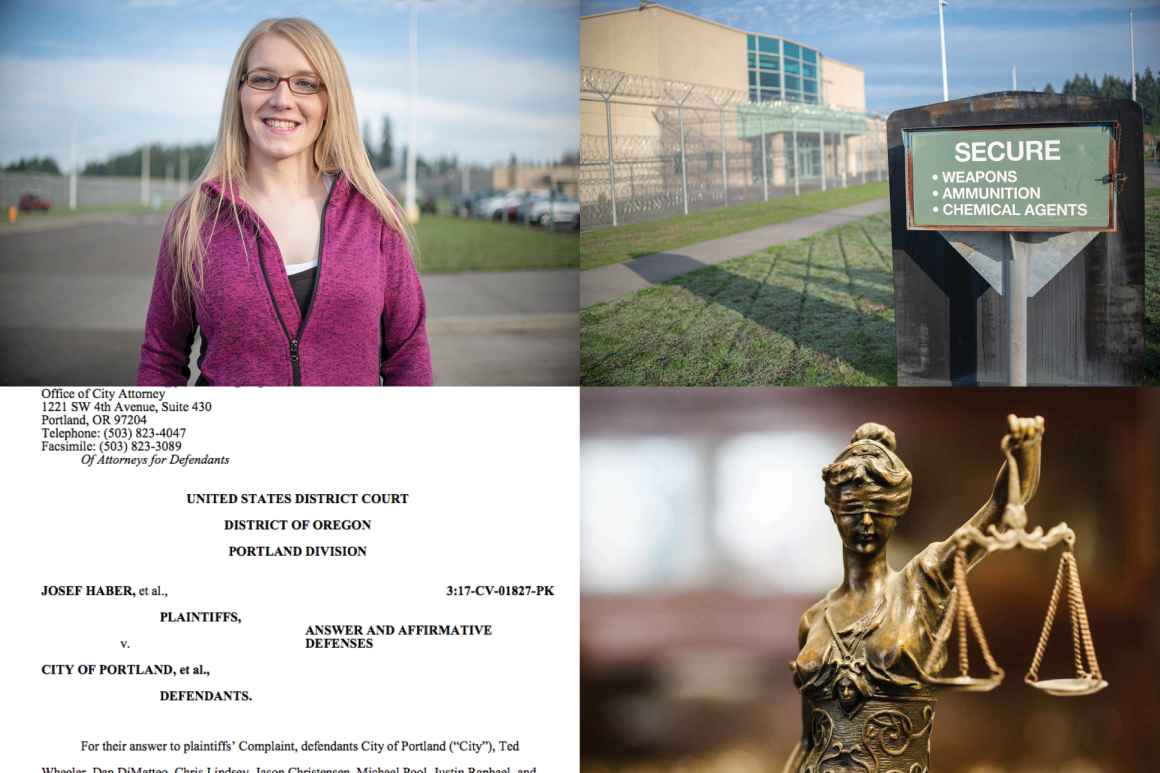 •Our client Michalle Wright, a transgender woman whose successful lawsuit against state led to dramatically improved policies for transgender inmates, was finally transferred from a male prison to the women's prison a the Coffee Creek Correctional facility.
•We filed a brief in the Ninth Circuit Court of Appeals defending the First Amendment rights of journalist Brian Addison, who was targeted and harassed by Baker City police for criticizing the department.
•We brought public attention to the role of Oregon's district attorneys in maintaining our state's shameful non-unanimous jury convictions.
•We addressed the Portland Police Bureau's absurd response to our class action lawsuit that we filed two months earlier.
FEBRUARY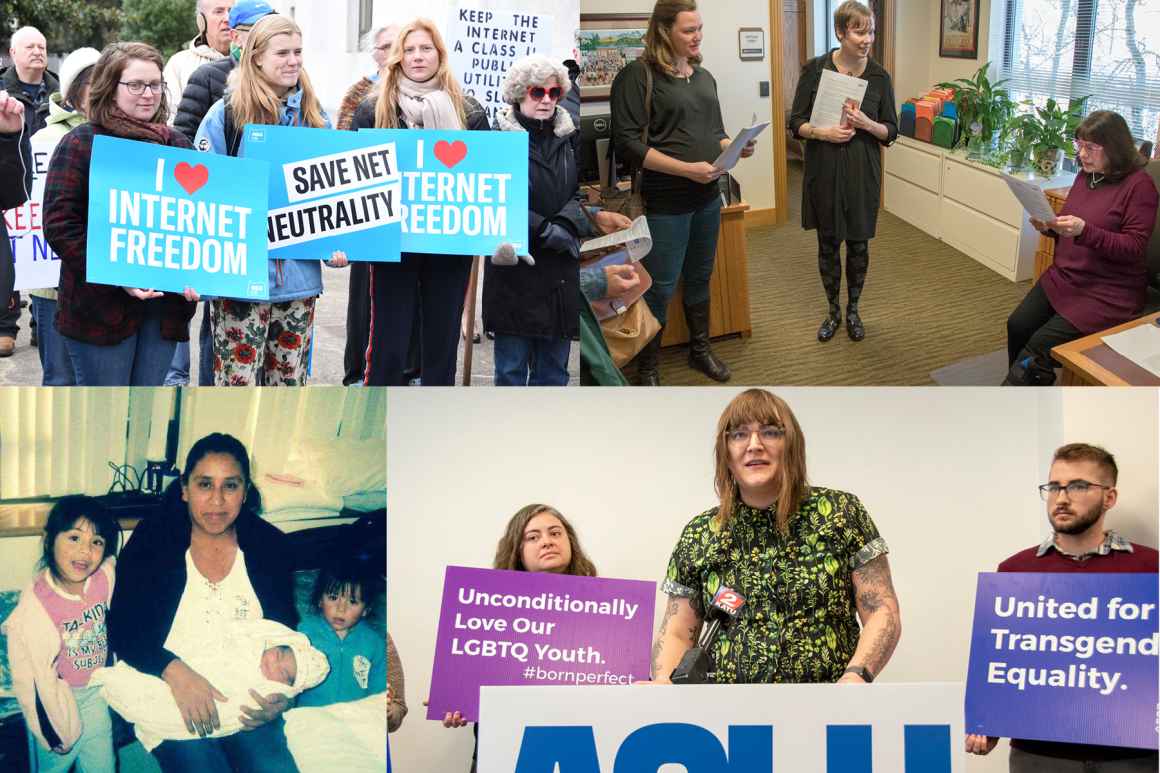 •We were in the Oregon State Capitol every day during the short legislative session, lobbying for net neutrality protections, criminal justice reform, and more. ACLU of Oregon supporters assembled at the capitol building for our Day of Action to advocate for civil rights and liberties.
•We sued Immigration and Customs Enforcement (ICE) for failing to respond to our Freedom of Information Act (FOIA) request about its actions in and around courthouses in Oregon.
•After a 46-year-old immigrant and mother of four was denied a life-saving liver transplant at Oregon Health and Science University, we led a publicity campaign to get OHSU to immediately change its transplant policy so every person in need can qualify for life-saving medical care. OHSU changed its policy the next day.
•Teaming up with Basic Rights Oregon, we went to court to stop a cruel federal lawsuit that targeted transgender students in the Dallas School District. The suit attempted to end the district's policy that protects transgender students from discrimination when using facilities like bathrooms and locker rooms at school.
MARCH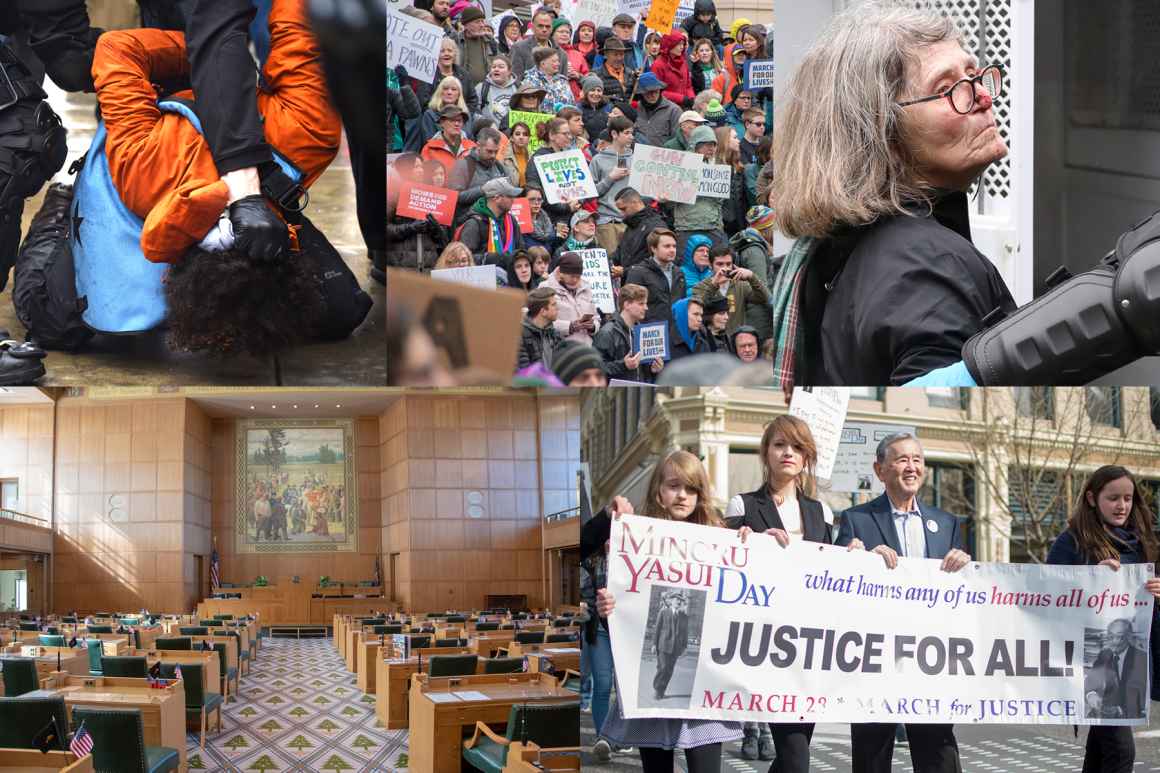 •We advocated for Oregon's district attorneys to stop charging youth as adults.
•March marked the end of the short legislative session in Salem. We worked hard on a bill that prohibits the requirement that a criminal defendant waive their right to be present at trial. And we also successfully fought for a bill improving Oregon's tuition equity laws for DACA recipients, supported a bill that eliminates a racially discriminatory practice in civil litigation, and successfully fought against bills targeting abortion rights.
•We filed six lawsuits against the City of Portland in the Multnomah County Circuit Court on behalf of protesters who were brutalized by police officers during protests in 2016 and 2017.
•We hosted civil rights icon Angela Davis at our Liberty Dinner.
•We stood up for the First Amendment rights of Oregon's public school students protesting gun violence.
•We helped honor the legacy of Oregon Freedom Fighter Minoru Yasui.
Donate to the ACLU of Oregon to help protect the rights and liberties of people throughout the state. 
APRIL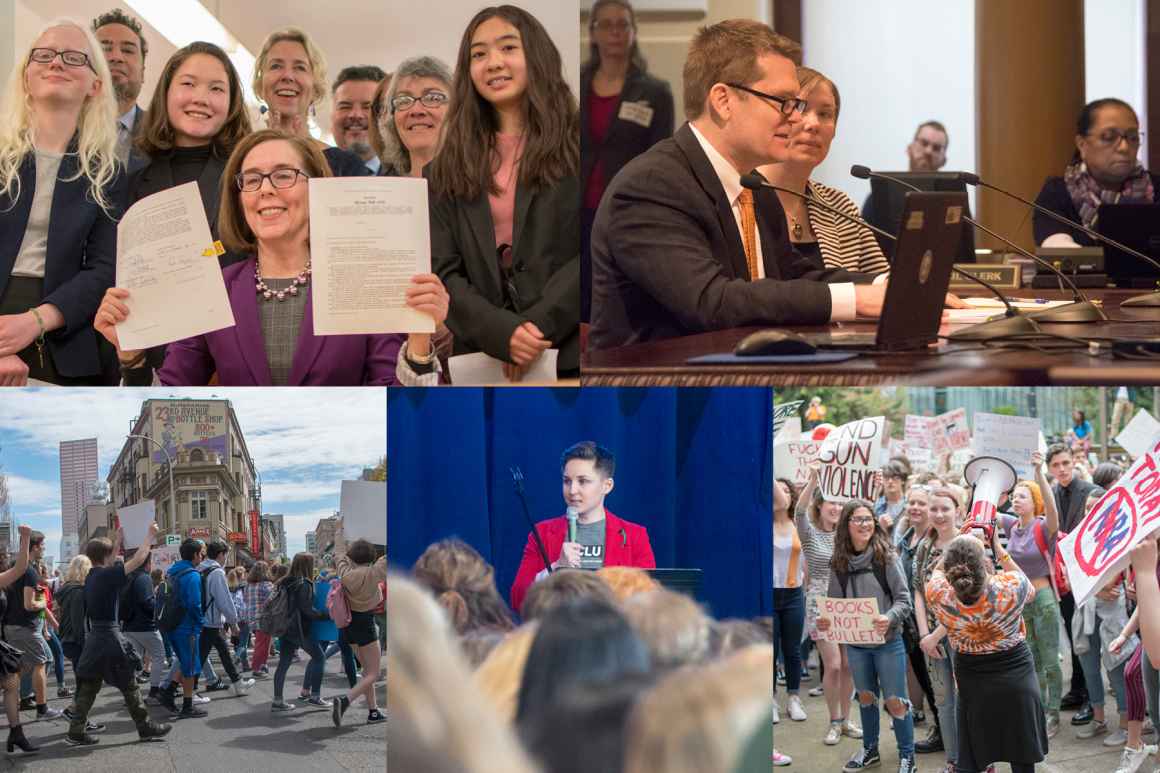 •Gov. Kate Brown signed the Net Neutrality bill that we fought hard for into law, and we broke down what that means for Oregon.
•We brought in Michael German, a former FBI agent and current fellow with the Brennan Center for Justice, to testify in front of Portland City Council about why Portland should leave (again) the FBI's Joint Terrorism Task Force. We held a forum with German and local civil rights leaders about the problematic JTTF.
•Staff Attorney Kelly Simon gave a know-your-rights presentation to hundreds of Portland-area students during the National School Walkout.
MAY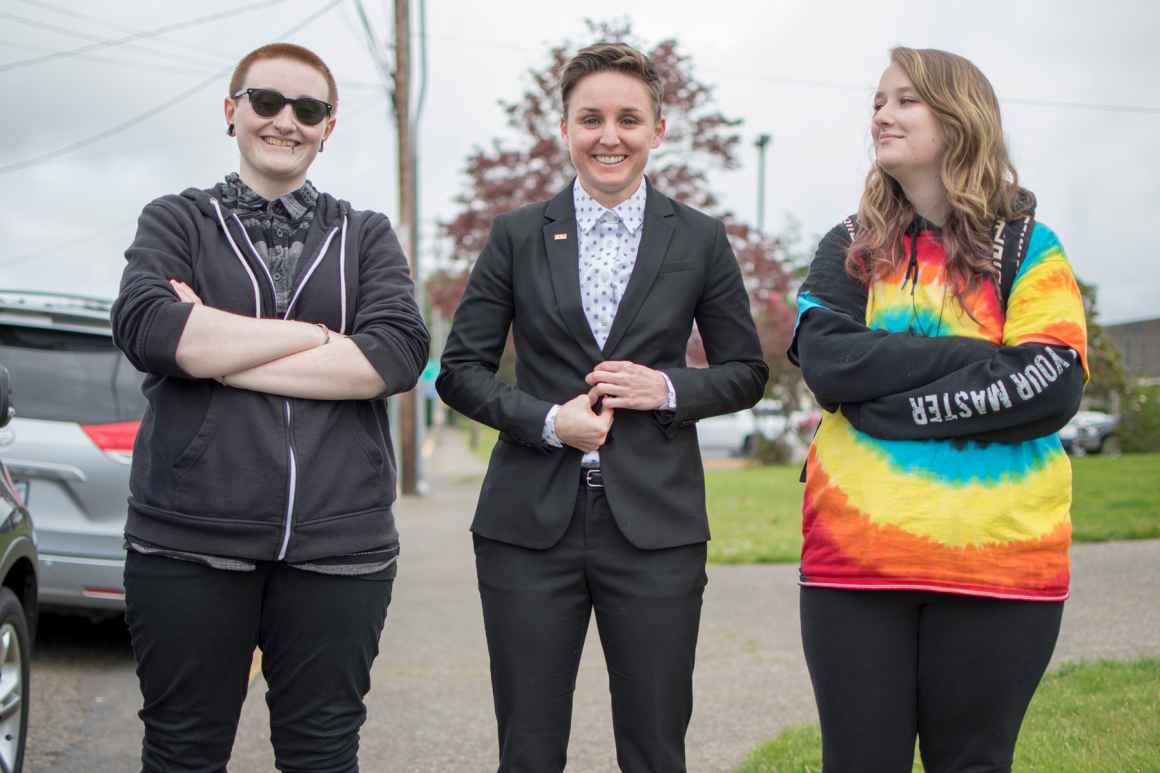 •With our community partner, the Hollywood Theatre, we hosted a screening of RBG, the documentary on Supreme Court Justice (and former ACLU attorney!) Ruth Bader Ginsburg.
•We hosted our first ever Washington County district attorney candidate forum in Hillsboro.
•We got involved at North Bend High School after learning LGBTQ students were harassed, threatened, bullied, and assaulted, just for being who they are. We represented Liv Funk and Hailey Smith who fought back against unconscionable treatment at the high school, reaching a sweeping settlement agreement with the North Bend School District that called for the removal of its principal and the school police officer, plus five years of Oregon Dept of Education oversight, among other necessary changes. The story reached nearly all Oregon news outlets, the New York Times, the Washington Post, CNN, and many more.
•We exposed Amazon's dangerous facial recognition program used by the Washington County Sheriff's Office.
JUNE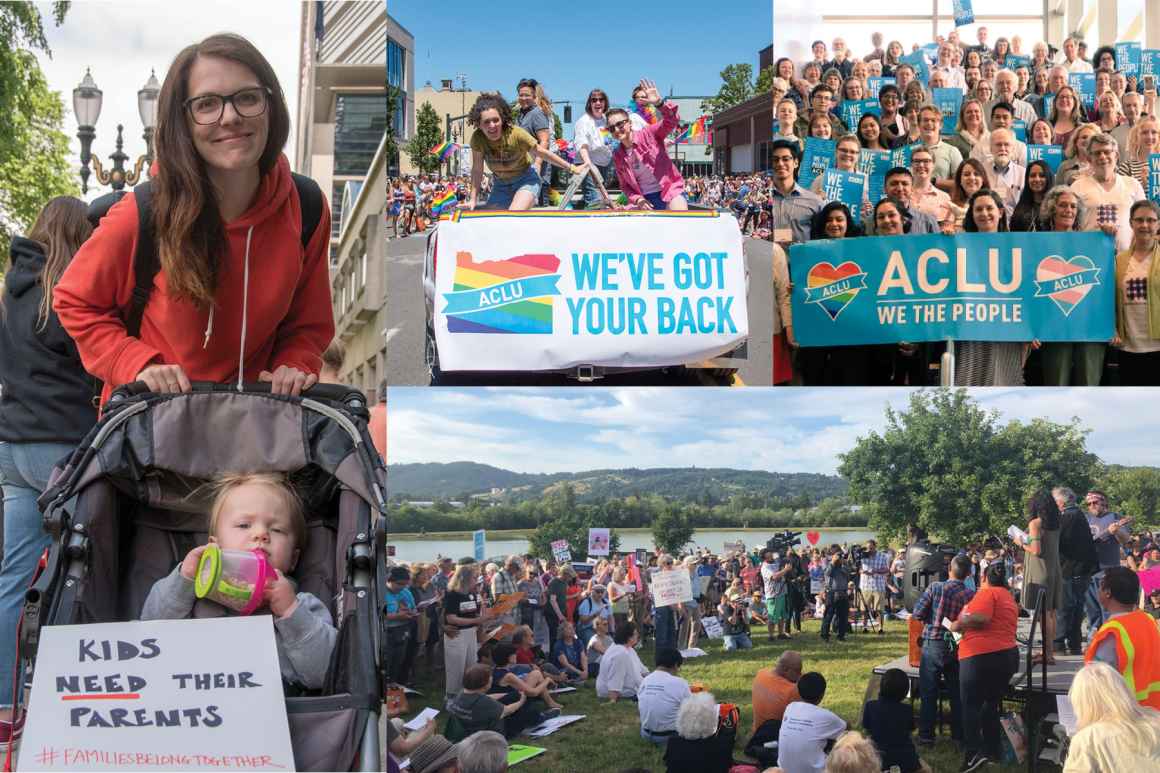 •The Trump Administration sent asylum seekers to Oregon's federal prison in Sheridan. Lawyers were barred from visiting the detained immigrants, so we filed an emergency lawsuit to put an immediate end to the unconstitutional denial of attorney access. A judge sided with us and forced the government to allow attorneys in to see the detained men. Prison officials were told of the transfer just 24 hours before the immigrants were brought to the prison. Over 120 men from all over the world were locked, three-to-a-cell, for up to 22 or 23 hours per day, forced to eat meals next to the open toilet in their cell, denied religiously appropriate meals or an adequate place to pray, denied religious clothing such as turbans, and provided inadequate medical care, among other concerns. The detained immigrants described mental anguish, thoughts of suicide, and fear and confusion over their treatment. Some were separated from their families.
•We proudly marched in Oregon's largest Pride parade.
•We held our first "We The People" conference in Salem, bringing together scores of ACLU members and supporters throughout the state for a full day of workshops, network, and community building.
•We hosted our first webinar on how to defeat the anti-immigrant ballot measure, which would later be called Measure 105, in the November election.
•Supporters held a "Families Belong Together" rally in downtown portland, protesting the Trump administration's cruel policy of separating immigrant families.
•We sent a letter to Mayor Ted Wheeler and Police Chief Danielle Outlaw imploring them to stop the police bureau's profiling and harassment of homeless people in downtown Portland: "Such practices are inhumane and counterproductive, and run afoul of federal and state constitutions and statutes."
•We explored challenges facing transgender people in Oregon with a conversation and a screening of Ma Vie En Rose at the Hollywood Theatre.
JULY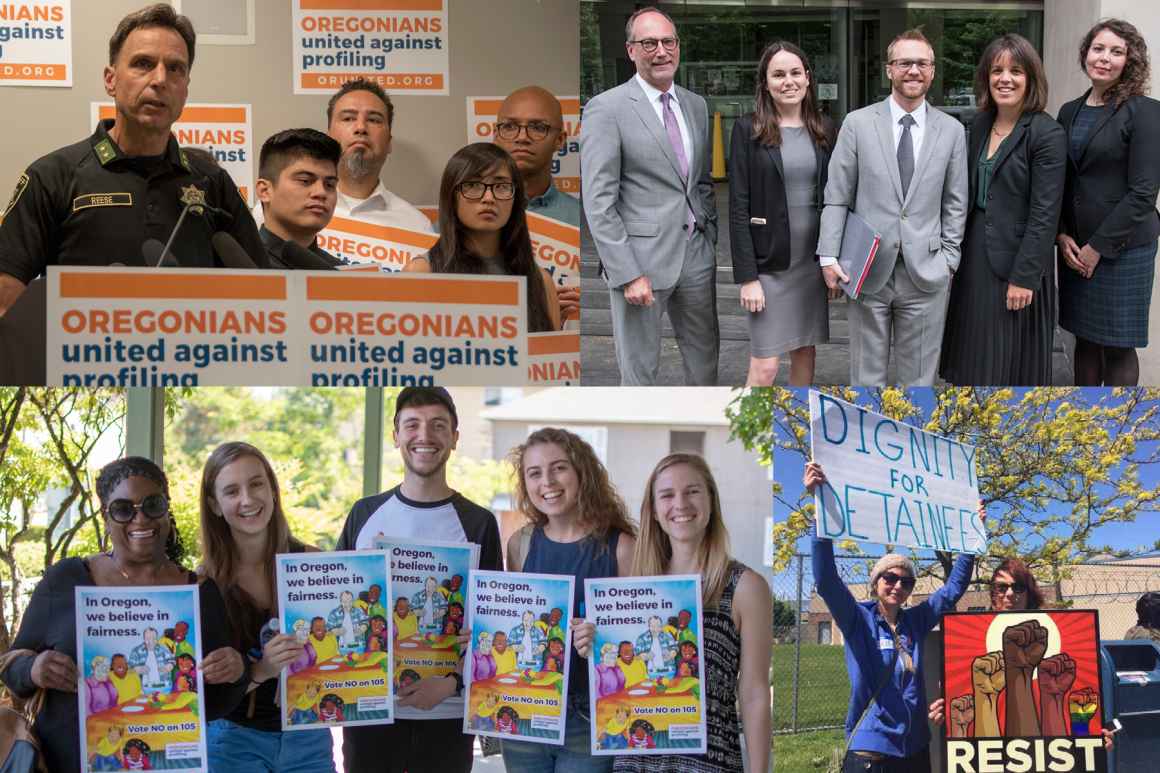 •With coalition partners, we held a press conference to introduce the "Oregonians United Against Profiling" campaign and ramped up our fight against what would become Measure 105. We joined with our partners to start canvassing homes and businesses.
•At our request and after our arguments in court, a federal judge dismissed the discriminatory lawsuit against the Dallas School District that targeted transgender students. Basic Rights Oregon Board Chair Brooke Shelley: "It sends a clear message to school districts that transgender students deserve the same access to a safe and affirming education as every other student. It also affirms the Dallas School District, which took necessary and legally required steps to affirm a transgender student in their school."
•Rejecting the U.S. government's troubling argument that detainees have no right to counsel, a federal judge granted our request for a preliminary injunction providing detainees at Sheridan ongoing access to counsel during immigration proceedings. 
AUGUST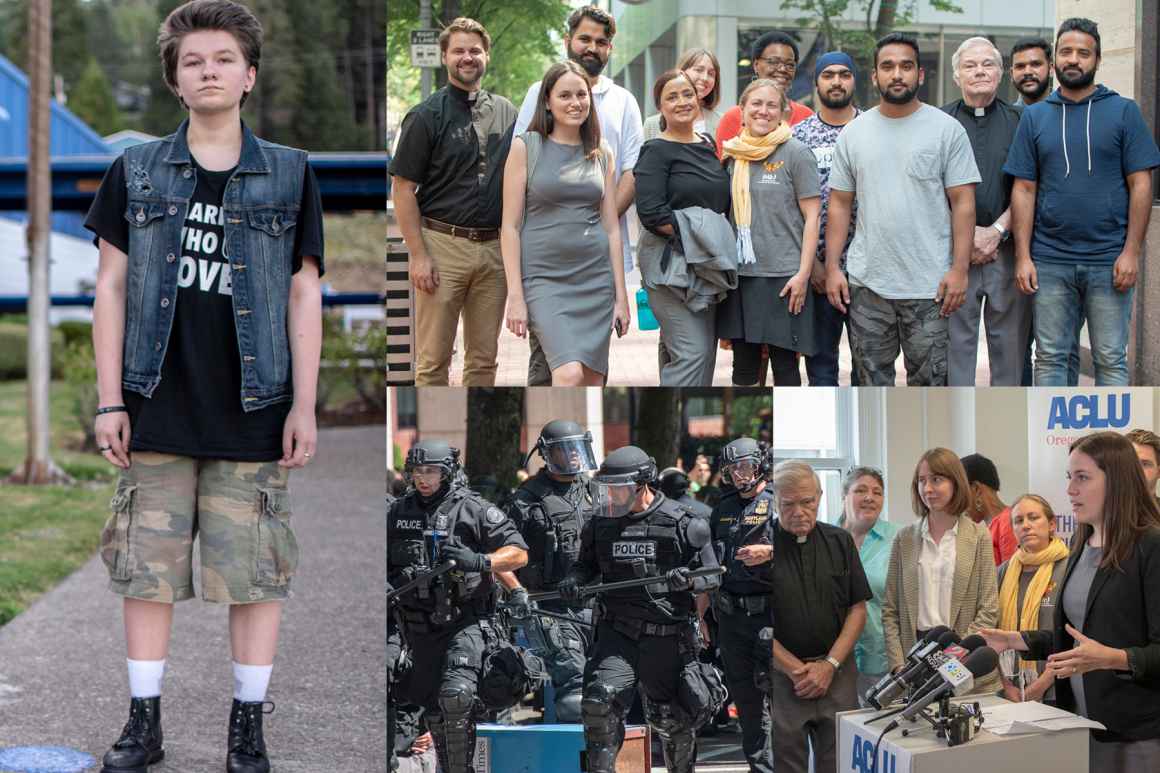 •We filed a friend-of-the-court brief urging the court to order officials at the Sheridan Detention Center to allow detained immigrants to freely practice their religions, which they had not been allowed to do.
•We called out the Portland Police Bureau's unacceptable and violent policing tactics during a protest downtown: "The repeated use of excessive force, and the targeting of demonstrators based on political beliefs are a danger to the First Amendment rights of all people."
•After yet another anti-transgender lawsuit was filed against the Sutherlin School District, we got involved representing a transgender student named Tyler who was personally referenced and intentionally misgendered in it. Shortly after our involvement, the plaintiffs dropped the suit. Tyler: "I hope other transgender students in Oregon know that they are not alone. I hope this lawsuit getting dropped means real progress and acceptance. I hope that other students like me feel empowered enough to speak up about the issues."
•Eight asylum seekers who were locked up in Sheridan were finally released after we were able to provide them access to attorneys. We held a press conference at our office.
•We called out the Oregon District Attorneys Association for hosting disgraced former Missouri district attorney at its conference, at which he gave a racist presentation.
SEPTEMBER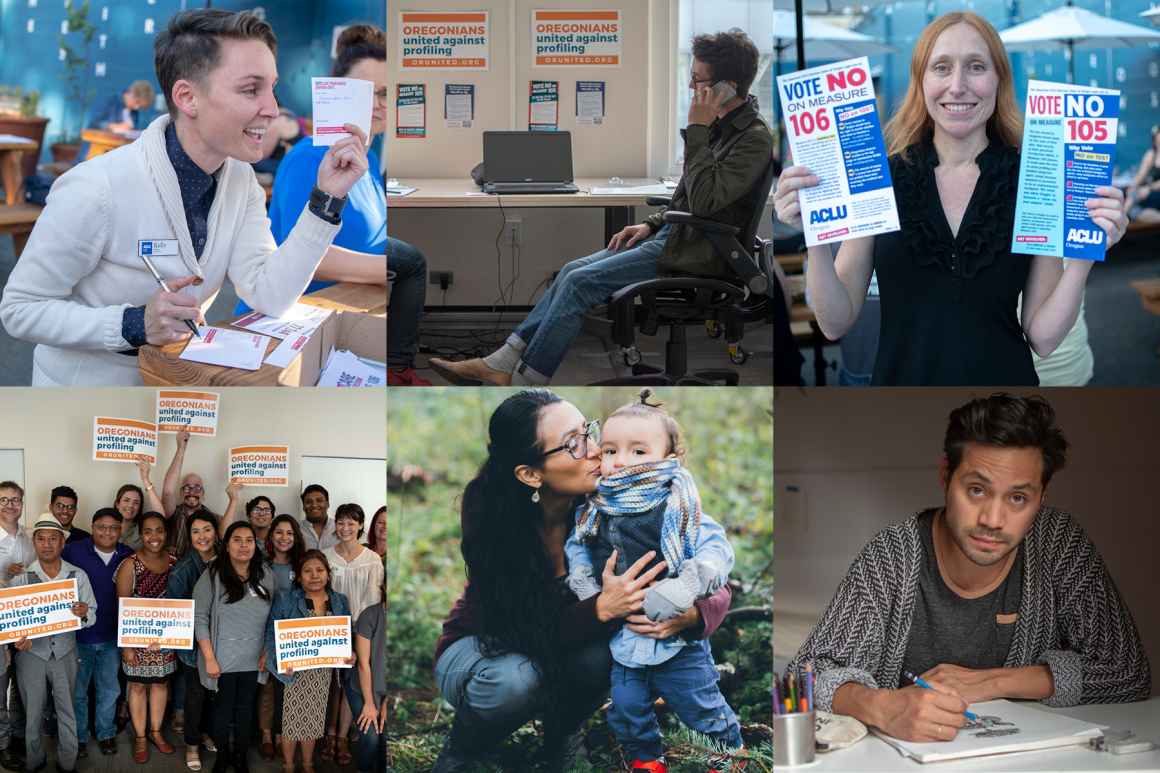 •We opened campaign headquarters in Eugene and Portland to fight against Measure 105 and Measure 106 and ramped up our fight against these terrible measures, organizing phone banks and canvassing.
•We sent letters to 61 Oregon jurisdictions with anti-panhandling laws on the book urging officials to repeal their misguided bans that violate the the constitution and criminalize homelessness. Many of those towns and cities have since removed their law.
•We highlighted local artist, activist, and DACA recipient Heldáy de la Cruz, who aslo played a huge part for our "Uncensored" fundraiser.
•In a major civil rights victory, a Multnomah County judge dismissed the criminal case against Ana del Rocío, who was arrested during an unconstitutional mass detention of TriMet riders. Importantly, the judge ruled that random stops of TriMet passengers to check for fare was a violation of the Oregon Constitution. Legal director Mat dos Santos: "As of today, TriMet can no longer stop riders to check for fare without reasonable and individualized suspicion. This is a massive victory and one that we hope TriMet will stop fighting. It's long past time to move on and create a constitutionally sound system."
Keep the momentum going in 2019 -- donate to the ACLU of Oregon. 
OCTOBER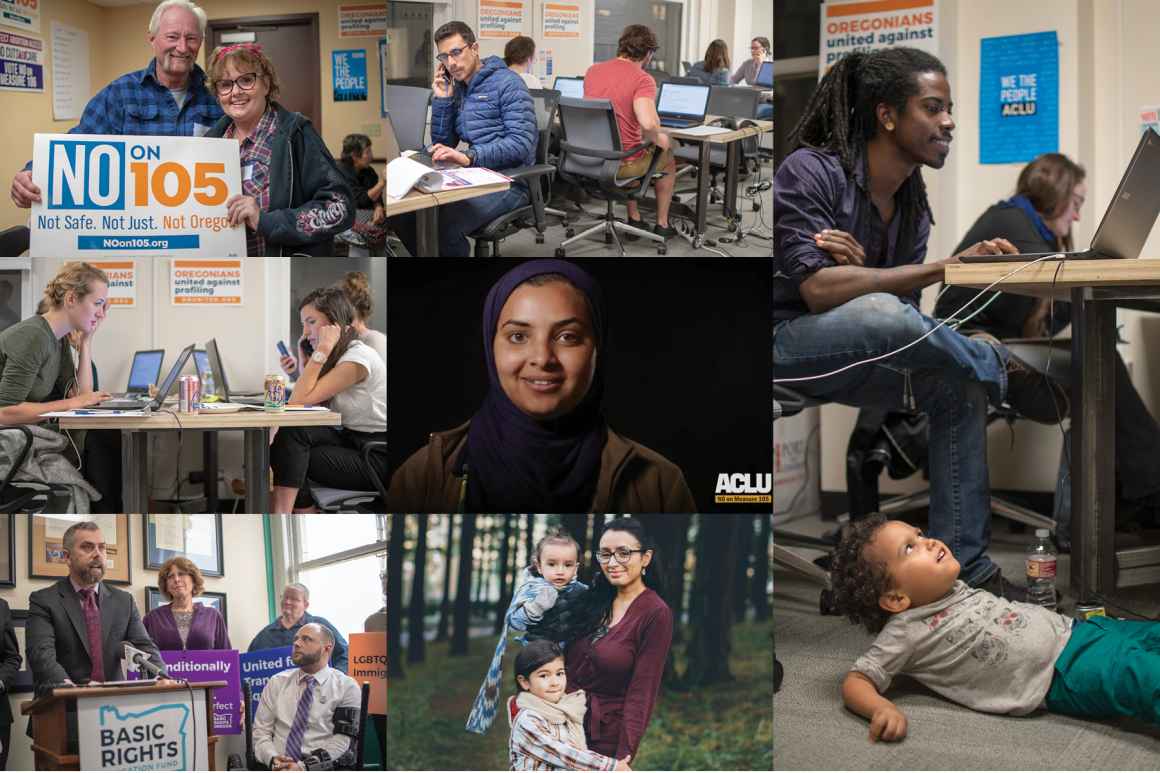 •Our campaign against Measure 105 and Measure 106 was in full throttle, holding near-daily phone banks at our Portland and Eugene headquarters and regular canvassing, and encouraging voters to turn in their ballots as soon as they they could after receiving them.
•We released powerful new digital ads, in both English and Spanish, urging Oregonians to vote NO on Measure 105: "We all come from different places, but we are united by our values. We will not be divided."
•Immediately after Portland Mayor Ted Wheeler introduced an emergency ordinance to crackdown on protesters in Portland, we led the charge against it: "This action by the mayor demonstrates a lack of trust in the public and is an end-run around our usual democratic processes."
•We released more ads fighting Measure 105, with immigrants sharing their stories and sending a powerful message: "We all come from different places, but we are united by our values. We will not be divided. Vote NO on Measure 105."
•We teamed up with Basic Rights Oregon and local leaders to tell the Trump Administration that trans people won't be erased.
NOVEMBER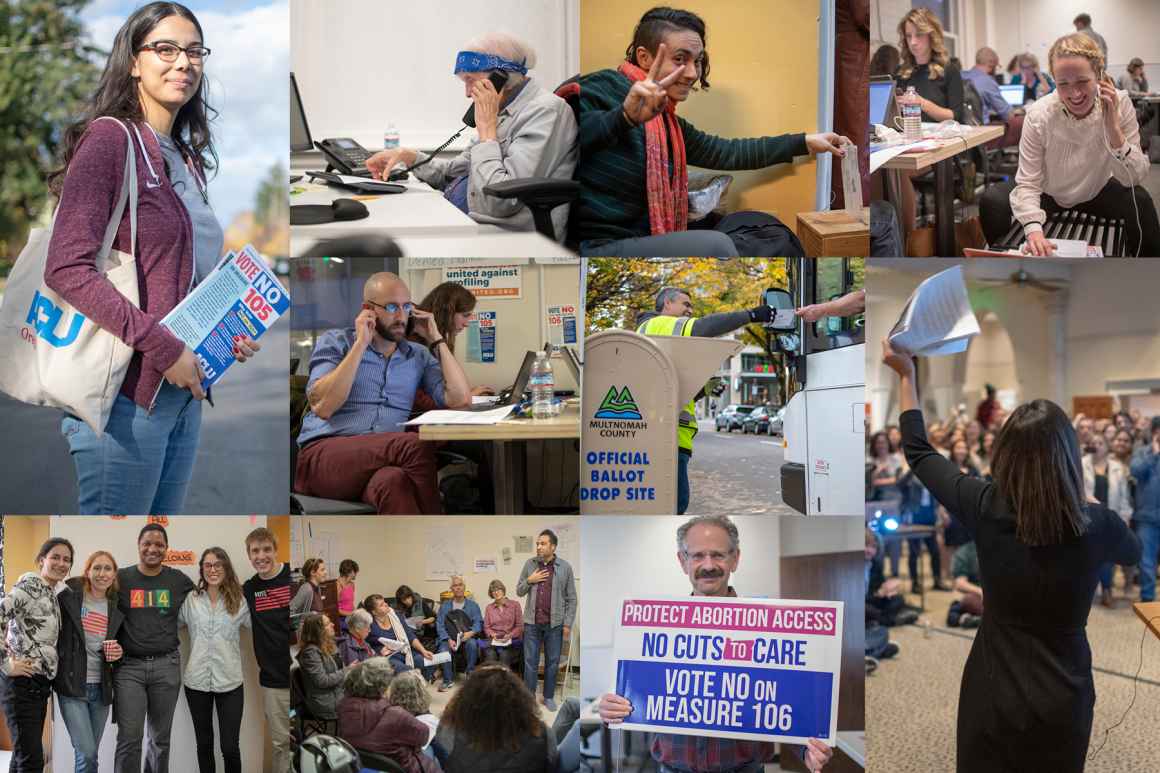 •Our campaign against Measure 105 and Measure 106 was nonstop through Election Day.
•Thanks to the tireless work of our members, supporters, ally organizations, and coalition partners, Measure 105 and Measure 106 were both soundly trounced at the polls. Executive director david rogers: "Oregonians used their ballots to protect their values by defeating Measures 105 and 106. Oregonians said loud and clear that reproductive freedom and immigrant rights are important to this state. We were blown away by the level of engagement from volunteers and the dynamic and diverse coalitions that made these victories possible. We are very proud that Oregon will continue to be a beacon of hope during these troubling times. President Trump and some Oregon politicians have targeted our communities and played the politics of fear and division, but the overwhelming majority of Oregon voters did not fall for it."
•We were there to pick up our client Michalle Wright as she was released from the Coffee Creek prison. Wright successfully fought for the rights of transgender prisoners. Because of her case, transgender prisoners in Oregon have access to life-saving medical care, and more. 
•We testified at Portland City Council against Mayor Wheeler's rushed and unconstitutional protest policing ordinance. Policy Director Kimberly McCullough: "We have deep concerns about the ordinance that is being presented as a solution to the challenges we face. Because those concerns run so deep, and because they cannot be addressed through amendments to this ordinance, we urge you to change course and not lead the city down a path of rights violations and costly litigation."
•We applauded when Portland City Council voted 3-2 to reject Mayor Wheeler's protest ordinance.
•We thanked everybody who put in so much time knocking on doors, making phone calls, and sending text messages and postcards to defeat Measure 105 and measure 106.
DECEMBER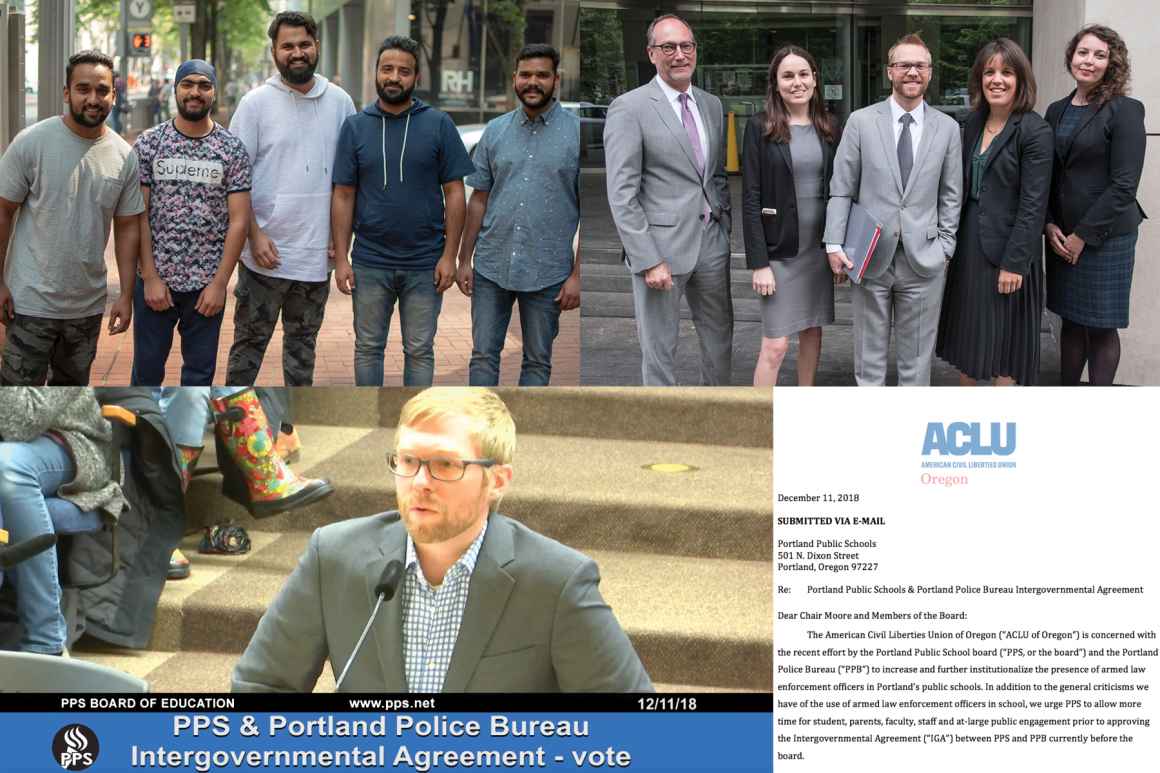 •Six months after we filed a successful emergency lawsuit against the Trump Administration to allow detained immigrants access to attorneys, we filed to dismiss the suit. As of Dec. 7, not a single immigration detainee remained inside the Sheridan prison. The vast majority had been released according to law to live with family, friends, or sponsors while they pursue their asylum claims in immigration court. 
•We testified in front of Portland Public School Board about why they should not approve a plan to spend millions to staff more police officers in schools. 
We have important work to do in 2019. Donate now to help protect civil rights and civil liberties in Oregon.